A few years back, one of the best days of my life was simply watching a football game with my girlfriends, drinking beer and cursing out our favorite team. I remember leaving the game wondering if there were other groups of girls who shared in our same interests.
I went home and headed to Google for the answer but after searching for what seemed entirely too long, what I found was disappointing sea of pink jerseys and football widows.
This was the first time I realized how perceptions within the media can be completely off base.
Another eyebrow raising instance occurred this past fall when I was on the search for a doll that was worthy enough to place on an all-girls fantasy football league trophy.
Naively I thought, I'll just find a Katniss, Princess Leia or Black Widow action figure at Target, throw a doll-sized football jersey on her and call it a day.
Problem was, there weren't any female action figures. Not even a Star Wars' Princess Leia or Avengers' Black Widow. But there plenty of yawn-inducing Barbie dolls with career aspirations of being a dog walker.
Both of these instances are frustrating examples of how women are still being treated in today's media.
Have you ever heard of The Bechdel Test? It's essentially a survey conducted during movies that counts how many women have a leading role and if those lead roles center around a man.
From Vox.com, in order to pass The Bechdel Test, all a movie would have to do is answer yes to the following:
Are there more than two named female characters?
Do the two female characters have a conversation at any point?
Is that conversation about anything other than a male character?
Doesn't seem to outlandish, right?
But in a study of nearly two thousand movies from 1970 to 2013, Walter Hickey of FiveThirtyEight found that almost half of all movies failed The Bechdel Test.
This graph may show that while the representation of women in the media has started to shift in recent years, but there is still so much more that can be done.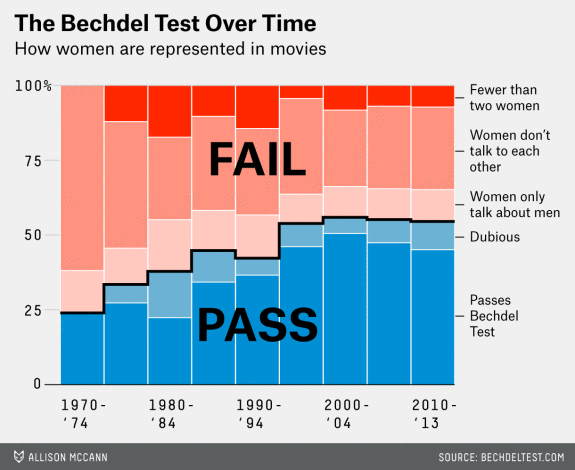 Miss Representation is a project started to raise awareness of how women are portrayed in the media. In their groundbreaking documentary, they attribute the portrayal of women as to who sits atop leadership roles at media, movie and music companies in entertainment.
In fact, women only hold 3percent of the clout positions in all telecommunications, entertainment, publishing and advertising.
That means 97 percent of the decisions on the portrayal of women come from men. 97 percent.
The video is insanely eye-opening which may lead you to ask, "But what I can do to change anything?"
It's simple really. And you don't have to be as popular as Emma Watson and Beyonce to make a difference.
You can only control what you do and say, correct?
So that's what you use your voice for.
It's only by sharing awareness of a problem that we come together for a solution.
One example of a women using her voice to alter gender perceptions is Donna Orender. The former PGA TOUR executive and WNBA President founded Generation W, a platform for women to come together to make a difference both locally and nationally. Gen W started with a vision and now has several events throughout the year catering specifically to women leaders within the community.
One such event is the 4th annual Generation W Leadership Conference on March 27th in Jacksonville, FL in which women leaders from all over the country meet to have both large and small breakout discussions on a variety of women-centric topics. This year's theme of Passion & Purpose is about showcasing inspiring thought leadership that will move people to improve their lives and communities.
I've been to a few Gen W events and I can tell you, nothing makes you feel more proud than sitting in a room of accomplished women and having intelligent discussions that didn't involve answering why he hasn't called in three days.
FYI: to see more info about the Passion and Purpose event and to buy tickets, visit the Gen W site.
It's at events like this where a part of you feels alive and that you can do anything you put your mind to. I know that sounds super cheesy, but feeling confident in yourself and proud of the women around you is a damn good feeling to experience.
As another International Women's Day has passed, it's important to look from within on how you change a perception.
Simple things like supporting your girlfriends, cheering for a fellow female coworker, sharing positive female stories and even joining local networking circles like Gen W can make a world of difference to those around you, both young and old, men and women alike.
Because fighting for gender equality and fair media representation isn't a woman thing. It's a decent-human-being thing.