My Entrepreneurial Journey
2008
"while I Loved The Aspect Of Living In A New Town And Experiencing Its Culture, I Decided To Give Disney The Sad News And Move Back To Jacksonville To Do Something With My Life. I Was So Angry At This Pos "owner" And Vowed No One Would Ever Control My Future Like That Again."
From: 9 Crazy Stories From My Days As a Semi-Pro Hockey WAG
2008
graduated high school in 2002 with 7 scholarships but after two years of going to college, I just felt like college wasn't for me. I already knew I wanted to run my own business but it felt like I was still taking mandatory classes that I wouldn't need. So I did a little soul searching, met a hockey player and started moving all across the country to where ever he played. Yet it wasn't all glitz and glamor. In fact, it was pretty difficult. Especially when the owner of a team skips town, doesn't pay rent and you're living in a hotel borrowing money from your parents. That was my wake up call to move back to Jacksonville and start my own business.
SKILLS OBTAINED
Jax Small & Emerging Business Certification
LEGAL BUSINESS CLASSIFICATIONS
BUSINESS TAX LAWS
PROCUREMENT
GOVERNMENT CONTRACTS
MARKETING
ECOMMERCE
2009
"you Have To Manage Two Perceptions. One Is Reality And The Other Is What Others Perceive To Be The Reality."
From: Al Steele, mentor & COO Hickory Transportation
2009
After moving back to Jacksonville with the same waitressing jobs I've always had, I decided to step it up a notch by joining a logistics company in the role of an executive assistant. The CEO was a former truck driver turned millionaire business owner who had enough faith in me that he invested in countless trips to marketing seminars in Boston, Charleston, Nashville, Tampa and New York. Being around like-minded digital marketing professionals helped me in crafting strategies for not only GuysGirl but for a $120M logistics company. While the marketing training was essential, the most valuable lessons I learned was by working side by side with the executive team.
SKILLS OBTAINED
Inbound Marketing
Search Engine Optimization
Html / Dreamweaver
Adobe Illustrator
Microsoft Office Suite
Executive Leadership
Public Speaking
Networking / Trade Shows
Traveling Solo
2013
"if You're Hard Working, Honest, Informed And A Little Lucky, It Can Lead To A New Path In Life."
From: Void Magazine's Social Issue on the announcement I would become their editor in chief. Ironically, this announcement was written by yours truly and filled with copy errors. We invested in a copy editor one month later.
2013
During Thanksgiving weekend of 2012, the logistics company closed abruptly leaving all 300 employees at a loss for words and without a plan. While I freelanced for the executive team after the closure, I knew the writing was on the wall. The day after I was told there were no more funds to justify an assistant, Void Magazine put out a notice they were looking for an editor. Believe me when I say I JUMPED at the chance. I spruced up my resume, sent GuysGirl writing samples and during the interview said, "I know I don't have a degree in marketing or journalism, but you won't find someone who will work harder than me."
I got the job and it was the next best thing to ever happen to my career. I was now working with people who were passionate about storytelling and it was infectious. Part of my job was to write every single day and much like anything else that's practiced, you become more effective at getting the message out clearly. This was also the first time working with professional copy editors and graphic designers—and let me just tell ya, I'm sorry for the years of GuysGirl content where I didn't respect these crafts enough to outsource it. Typical "I can do it all" mentality. In addition to working and trusting a team of professionals, interviews became my favorite part of the job. From a fisherman at Mayport to the owner of the Jaguars, I'm still in awe of everyone gracious enough to allow me to share their story.
SKILLS OBTAINED
Editorial Flow
Magazine Layout
Art Direction
Advertorials
Photo Shoots
Social Promotion & Advertising
Art Of The Interview
Team Work & Communication
Delegation & Deadlines
Social Causes
2014
"i've Always Been The Type To Want To Get Better… I'm Not Going To Let One Bad Decision Alter The Longtime Goals I Have For Myself."
After a year and a half on the job with Void, I decided to pursue opportunities covering sports full-time. I was offered a gig to start a new female football show on the Jaguars official radio station, 1010xl. Along with that, I was offered a salaried work-from-home opportunity covering college sports. The radio gig became one of the best things I've ever done but covering college sports for another online media company was one of the worst career experiences. I left a job with a fantastic team environment to a situation where a company leader and I often butt heads. Three months later and a lot of stressful nights, our two sides ultimately decided to part ways leaving me at a fork in the road. But this failed career change was just the kick in the pants I needed.
SKILLS OBTAINED
Online Content Strategy
Breaking News Coverage
On Air Radio Personality
High Stakes Seo
Social Media Advertising
Present Day
"i Made A Choice Early In My Career To Challenge Myself —to Step Up My Game Each And Every Day."
From: Pat Summitt, Legendary Tennessee Volunteers Coach
2016
For years I've treated GuysGirl as a side hustle but 2016 is when I've taken all the skills I learned with other companies and applied it to my own company. I needed a new content management system, so I found one. I needed new editorial layouts for GuysGirl, Questionably Classy and GuysGirl Media, so I brushed up on my web design and relaunched them. The radio station wanted me to become more of a part of their network, so we started a Jaguars game day show. Local TV liked what I did on the radio, so I now regularly guest cohost. I wanted to get more experience with radio, so I launched The GuysGirl Show in both livestream and podcast formats.
I have become a one-woman digital media brand which is what brings me here. No longer do I treat GuysGirl as a side hustle—it's the voice for the female fan. And with everything I've learned along this journey, I'm going to keep pushing and help others do the same.
SKILLS OBTAINED
Live Tv Hosting
Podcasting
Audio And Video Livestreaming
Producing
Show Rundowns & Prep
App/plugin Project Development
Divi Builder Web Design
Business Consulting
Digital Media Plans
Advertising Spend
Project Coordination
Freelance Management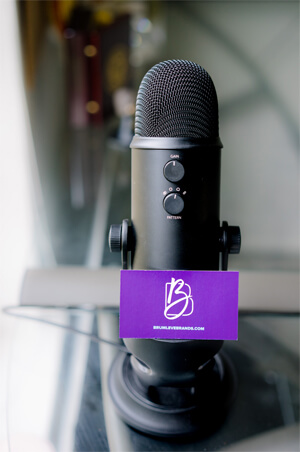 FROM BLOGGER TO BROADCASTER
FOUNDED BY A RENANSAINCE WOMAN IN A DIGITAL WORLD.
My name is Blythe and I started my first sports blog in 2009 with little experience fueled by driven passion. Fast forward a few years and I've since leveled up from a part-time blogger into a broadcasting career and digital project manager for my company Brumleve Brands.
Back when Blogspot blogs were all the rage, I locked myself in an office and learned WordPress, SEO, web design, user experience, analytics, email marketing, social media and more. I used this experience at gigs such as an editor in chief at a print magazine, digital marketer in construction and logistics, a radio host, TV commentator, podcaster and live digital broadcasting.
If you're looking to work with a multi-tool player in the web world—you've found her.